American Pastor Andrew Brunson Charged in Turkey with Membership in an Armed Terrorist Organization and Sent to Prison
Alan and his family need 100,000 signatures by March 8, 2017 to get a response from the White House.
American Pastor Andrew Brunson has languished in prison in Turkey since October 2016, falsely charged with "membership in an armed terrorist organization" despite the Turkish authorities having no evidence against him. Pastor Andrew is a U.S. citizen from North Carolina who (with his family) has lived peacefully in Turkey since 1993.
We urge the President of the United States to request that Turkish President Erdoğan order Andrew's immediate release and return to the United States.
---
Alan and his family need 100,000 signatures by March 8, 2017 to get a response from the White House.
ORLANDO, FL, December 14 — Andrew Brunson, a former ARP pastor, graduate of Erskine Seminary, and son of longtime Associate Reformed Presbyterian Church missionaries, has been charged in Turkey with membership in an armed terrorist organization and sent to prison by the officiating judge. Before being sentenced Brunson had been held without charge in a detention center in Turkey since October 7. He was interrogated without notice on December 9 and imprisoned.
When he was originally detained, his activities were considered by the Turkish government to be "against national security," but no other reason was given for Andrew's incarceration and no formal charges had been filed against him.
As of December 8, he had been held without charges for 63 days. In more than two months of detention, Andrew has been permitted only two U.S. consular visits.
The U.S. State Department, Senate Committee on Foreign Relations and other U.S. government officials have been working with leaders of the Evangelical Presbyterian Church, Brunson's current church, to gain Brunson's release. Leaders in the Associate Reformed Presbyterian Church have also sought to be of assistance during this time.
Brunson was raised as member of the Associate Reformed Presbyterian Church and was employed as a pastor of the ARP church, in Turkey, from 1993-2010. He now works as a pastor of the Evangelical Presbyterian Church. At the time of his detention, the Brunsons had been trying for five months to renew their resident visas but had not received any response.
The Associate Reformed Presbyterian Church joins the Evangelical Presbyterian Church in the firm belief that Andrew Brunson's detention is unfounded. The Brunsons have absolutely no connection to any armed terrorist organization in the country where he has lived peacefully for 23 years and where they raised their three children.
For more information:
Rev. C. Ronald Beard Principal Clerk, the Associate Reformed Presbyterian Church
Mr. Phil Williams Moderator
Rev. Lee Shelnutt Moderator-Elect
Rev. C. Ronald Beard Principal Clerk, the Associate Reformed Presbyterian Church
918 S. Pleasantburg Dr. #127 Greenville, SC 29607 1-864-232-8297 www.arpchurch.org
---
UPDATE: Turkey jails US pastor on 'terrorism' allegations
Published: Dec. 9, 2016 by Barbara G. Baker
UPDATE (9 Dec.):
Andrew Brunson. Courtesy of the Brunson family
A Turkish judge sent Rev. Andrew Brunson to prison in Izmir today, 64 days after the US pastor and his wife, Norine, were detained on 7 Oct. under Interior Ministry deportation orders.
Although his wife was released on 19 Oct. and given an extended permit to remain in the country, Andrew Brunson has been held since 20 Oct. at the Harmandali Detention Centre on the northern edge of Izmir.
The 48-year-old was transferred overnight on 8 Dec. to a counter-terrorism centre, before being brought before an Izmir court today (9 Dec.) for interrogation.
The American Protestant heard today for the first time the allegations filed against him, which apparently prompted his arrest and lengthy detention. According to the officiating judge, the "terrorism" charges came from a "secret informant". The court ruled that the files on Brunson's case would continue to remain inaccessible to his lawyer, who had not been allowed to meet him until today's hearing.
Brunson's lawyer has confirmed that the court document released at the hearing charged her US client with "membership in an armed terrorist organisation". The judge specifically mentioned allegations that the pastor had links with the Fetullah Gulen movement, which is accused by Ankara of instigating a failed military coup against the Turkish government on 15 July. The pastor is now incarcerated at Izmir's Sakran 3 Nolu T Tipi Prison.
In a wide-ranging crackdown to identify and prosecute the suspected coup plotters and their sympathisers, with the intention to prosecute them as "terrorists", the Turkish authorities have suspended or jailed tens of thousands of judges, prosecutors, military personnel, journalists and educators on terrorism charges over the past five months.
Brunson and his wife, who have three children now studying in the US, have lived in Turkey for the past 23 years.
Norine Brunson stands below Izmir's Harmandanli Detention Centre, where her husband had been held since 20 Oct. 2016
Previous update (20 Oct.)
Turkish police authorities holding an American Protestant couple in isolation for the past 13 days released the wife late last night (19 Oct.), but continue to hold her husband incommunicado in an Izmir detention facility.
Rev. Andrew Brunson and his wife Norine were refused contact with U.S. consular officials and lawyers since they were detained on 7 Oct., under Interior Ministry orders for deportation within 15 days on alleged "national security" grounds. To date, no reason for the expulsion order has been given to the couple, who are 20-year residents of Turkey.
Although initial attempts by members of the Izmir Resurrection Church to send in personal effects to their pastor and his wife were refused, this week officials accepted parcels of fresh clothing and medicine for the couple. But the police would not permit a Bible to be sent on to them.
It remained unclear whether Rev. Brunson would be deported or remain in custody. He was transferred to the Cigli detention centre in the northern part of Izmir this morning.
Original story (14 Oct.):
Turkish officials in the coastal city of Izmir detained American Christians Andrew and Norine Brunson on 7 Oct., refusing ever since to allow daily requests for access to them by U.S. consular officials and lawyers.
According to authorities at the Migration Administration's detention facility in Izmir, the Turkish Interior Ministry had ordered the couple's deportation within 15 days. Specifically, the directive reportedly accused them of activities said to constitute a "national security risk".
When pressed five days later for details about this general accusation, the detention officials said they were "waiting for papers from Ankara" on the case.
The Izmir Dirilis (Resurrection) Church, where Andrew Brunson is the pastor.
Residents of Turkey for the past 20 years, the Brunsons are currently leading the Izmir Resurrection Church, a small Protestant congregation averaging 30 to 40 worshippers, located in the city's Alsancak district.
After filing a routine application in April to renew their residence visas, the Brunsons had received no response for the past six months. But when they arrived home on 7 Oct., they found a written summons requesting them to report with their passports to a local police station. On arrival, they were immediately taken into custody.
A lawyer asking to visit them was denied access and told to obtain an affidavit as his legal authorisation. But when he returned with the document, officials claimed that the couple had already signed a statement, declaring they did not want a lawyer. The authorities refused to produce the written statement.
A lawyer acting on behalf of the Brunsons filed a petition to the Izmir governor yesterday (12 Oct.), protesting that the incommunicado stipulation against the American Christians was illegal under Turkish detention laws. A member of the Turkish Parliament has also made an inquiry on the handling of their detention.
Although an Izmir church leader confirmed that the U.S. Embassy in Ankara is reportedly "following the arrests", an embassy official declined any comment on the detentions to World Watch Monitor.
After five days, church friends trying to send in a change of clothing to the couple, who are in their late forties, continue to be rebuffed at the detention centre.
A continuing pattern
The Interior Ministry has issued similar summary deportation orders against expatriate Christians living in Turkey over the past few years. But when their lawyers were given official access to their detained clients, as stipulated by law, the directive could be delayed. This allowed a temporary stay of deportation and a formal court appeal.
In such a recent turn-around, Canadian-American Christian David Byle was taken into custody in April, when the Interior Ministry denied his application to renew his residence visa and advised the immigration authorities to deport him as a "danger to public order".
Byle has worked for years with a registered Bible Correspondence Course, helping educate the Turkish public about the Bible and organising legal street outreaches.
Byle's lawyer filed three cases against his arrest, deportation order and re-entry ban. All now remain on hold because of the Turkish judicial upheaval, in which thousands of judges and prosecutors have been suspended over allegations of support for the Fetullah Gülen movement, accused of orchestrating the summer's attempted military coup. But in the interim, until the cases are resolved, Byle continues to live in Turkey.
A similar process took place two years ago, when an American Protestant pastoring in southeast Turkey's Gaziantep city for nine years was detained in September 2014 for imminent deportation, under Interior Ministry orders. Although Patrick Jensen's residence permit was cancelled, his lawyer's intervention shortened his detention to only 30 hours, and a court hearing was set to hear his appeal over the ruling, which Turkey's Association of Protestant Churches had protested as "absolutely arbitrary".
The Gaziantep Administrative Court's judicial decision two months later overturned the Interior Ministry's order, allowing Jensen to remain in the country.
Andrew and Norine Brunson
Ironically, Jensen was refused entry on 27 Aug. when he arrived at the Istanbul airport, returning from traveling abroad. The reason for his blacklisting is still unclear.
Still another U.S. citizen living in Turkey and involved in Christian ministry learned this past weekend while flying out of an Istanbul airport that his valid residence visa had been revoked. It was unclear whether he would be permitted to re-enter Turkey if he returned on his round-trip ticket.
But apparently the option of judicial review is being circumvented in the Brunsons' deportation, since they have so far been refused the right to any legal counsel to prevent their forced removal from Turkey.
Under Turkey's current "state of emergency", declared after the failed 15 July military coup, the government in Ankara has relatively free rein to implement policies and directives which appear to violate the principle of rule of law. Last week the emergency regulations were renewed for another three months, until mid-January 2017.
"They are never going to be happy with any foreigners doing Christian work in this country," one Turkish church leader told World Watch Monitor. "So we have to take these government actions in proportion, realising there are so many countries in this region where expatriate Christians can't even go openly.
"There are quite likely touchy issues involved here," he said, referring to the flood of Syrian refugees and the Kurdish violence in the southeast, where many Christians are involved in humanitarian aid.
So for expatriate Christians involved in church ministries in Turkey, their routine residence visa renewal procedures now appear somewhat tentative.
Christian Groups Denounce Detention of US Protestant Pastor in Turkey
Christian groups are denouncing the jailing of an American pastor who has been detained for nearly a month in isolation in Turkey, accused of posing what officials call a "national security threat."
Authorities and the representatives of Protestant Christian community in Turkey say that Andrew Brunson, who has been a Protestant missionary in Turkey for more than 20 years, is being held at the Izmir detention facility.
He and his wife, Norine Brunson, who led the Protestant Resurrection Church in the city of Izmir, were detained October 7, Turkish officials confirmed. Norine Brunson was released October 20 and ordered to leave the country.
Later, Turkish officials decided to allow her to stay until November 10 when her visa expires, according to church officials. They added that Andrew Brunson is expected to be deported after his release.
Groups take up the cause
The U.S-based Christian group Voice of the Persecuted has taken up the Brunsons' cause, as have opposition Parliament members in Turkey and Protestant pastors in the largely Muslim nation.
"At this point, the priority is to get Norine and Andrew safely out of Turkey, something entirely in keeping with the deportation order," Voice of the Persecuted said in a statement on its website.
Norine Brunson might be forced to leave at any time, and she does not want to leave the country without her husband, the statement said.
Officials at the Izmir Removal Center, where Brunson is being held, said his fate is now in the hands of "the Directorate General of Migration Management in the Ministry of Interior in Ankara that gives the orders about the detention and deportation of Brunson."
Officials in Ankara did not respond to VOA requests for comment.
American officials are monitoring Brunson's detention, but "privacy considerations prevent us from commenting further," said a State Department spokesman in Washington last week.
No law broken
Selina Dogan, a Turkish Parliament member from the Republican People's Party (CHP), Turkey's main opposition party, told VOA she has asked authorities about Brunson's case and has, so far, not received a reply. Dogan has been in contact with church officials and lawyers attempting to free Brunson.
Authorities' "acts towards the pastor are arbitrary," Dogan said. "According to the international treaties Turkey has signed, religious liberty covers not believing in any religion as well as sharing any religion without resorting to violence or coercion."
"The pastors do have the right to share their faith with people," Dogan added. "And what the Turkish authorities mean when they accuse the pastors of being a threat to national security does require some explanation."
Post-coup fallout
Tens of thousands of Turks have been arrested, suspended or fired from their jobs under a state of emergency imposed by the government following a failed coup attempt in July.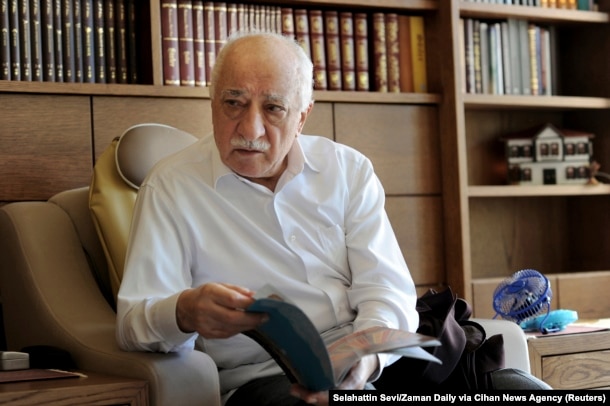 U.S.-Turkish relations are deeply strained over demands for the extradition of Islamic cleric Fethullah Gulen, whom Turkey blames for July's failed coup. He lives in Pennsylvania. The Turkish government said the post-coup crackdown is also needed to curb Kurdish militants and terror coming from Islamic State.
Turkey is a largely Muslim nation, and there are about 10,000 Protestant Christians in Turkey. Christian leaders say the Turkish government is growing more stringent in its measures against Christians.
According to the Association of Protestant Churches in Turkey, 100 expatriate Protestants have been prevented from serving in Turkey over the past four years as their visas or residence permits were not extended.
The Turkish government does not allow Protestants to build churches in the country.
"Missionary activities are still considered a criminal offense in Turkey," said Soner Tufan, a spokesperson of the Association of Protestant Churches of Turkey. "Our country is in a very bad situation in terms of free speech and religious liberty."
Other Christians banned
American Christian Ryan D. Keating, who headed a church-sponsored refugee ministry in Ankara, was refused re-entry into Turkey in October after he left for a short visit abroad.
At the Istanbul airport, "the officers emphasized several times that I had a lifetime ban," said Keating, who lived in Turkey for more than a decade. "They told me that it was related to national security but wouldn't elaborate, insisting that they couldn't answer my questions.
"Since I haven't been given any explanations about my entry ban, I can only speculate that the government has decided to deport me because of my work at the church and with refugees," Keating said.